We are the Pacific Dragons (PDs), a Dragon Boat and Outrigger Canoe Club established in 1994. We have 100+ members, and welcome new people who want to get fit, make new friends, compete, and join our PDs family.
Why join the PDs?
Dedicated Dragon Boat, Outrigger Canoe, both 6 (OC6) and single craft (OC1) coaching teams who challenge and push and inspire us to be better paddlers
We paddle locally in Blackwattle Bay, Sydney Harbour and surrounding Sydney region.
We love racing at local and highest level of competition here and overseas
Our regular training sessions include Mon/Wed/Sat for Dragon Boat, Tue/Thu/Sun Outrigger Canoe (OC6), Tue/Fri Single Craft (OC1).
We have regular single craft time trials, and dedicated training programs for major regattas.
"Come and Try" – How do I sign up?
We offer 3 free trial sessions. No experience required.
News
November 27, 2023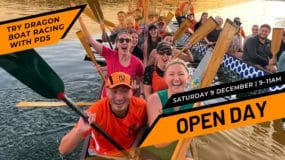 Join us for a fun and free dragon boat paddling and info session, where you'll learn all about training and racing in a dragon boat. No previous paddling experience necessary.
April 16, 2023

The Pacific Dragons raced hard at the AOCRA NSW Zone State Titles on Saturday 15 April, in near perfect conditions in Gunnamatta Park, Cronulla. Our five crews did the club and themselves proud, taking out Gold in the Open Women's SC (10km), Silver in the Novice Men's SC (10km), Bronze in Open...